We now have in stock a selection of Lunatik cases for the iPhone 5, including Lunatik's flagship case, the Taktik Extreme.
1)     Lunatik Taktik Extreme
Lunatik's flagship case, this Taktik is a step up in design (and price !) from the Griffin Survivor, Otterbox and Ballistic style tough cases.
Although not waterproof (but splashproof), the Taktik is an ultra tough case for the iPhone 5. It does add some bulk around the sides of the iPhone but the design is certainly unique and the finishing first rate.
A unique feature of the case is that the screen protection is via a Gorilla Glass lens which is incorporated into the case. Also, the case is closed via a number of secure screws, so it is not a case which simply slips on/off.
One last thing to note is that the rear camera is not covered by the case.
http://www.toodolla.com.au/lunatik-taktik-extreme-premium-ultra-rugged-case-with-gorilla-glass-screen-protection-black-iphone-5/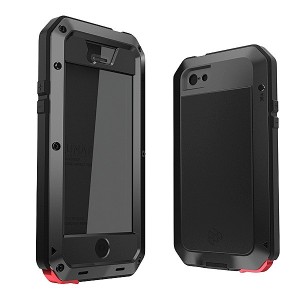 2)     Lunatik Seismik
Another unique case with some great colour combinations is the Lunatik Seismik. The Seismik has the same impact protection sides as the Taktik but is slimmer and lighter. Of course, it does not offer the same level of protection as the Taktik (and no screen protection), but is a definite step up from standard silicone or TPU cases – and much better looking !
The back panel of the case is hardshell, and the front of the case provides a nice lip covering the sides of the iPhone, as well as protecting the volume, mute and power buttons.
To stand out from the crowd, the Grey/Lime colour is bright !
http://www.toodolla.com.au/lunatik-seismik-suspension-frame-case-with-impact-protection-system-iphone-5/
3)     Lunatik Flak
A new favourite case with the toodolla team is the Lunatik Flak. Smooth and stylish, the Flak is a dual layer case (hardshell and silicone) with good all round protection for the iPhone. As with the Seismik and Taktik, the sides and front lip of the iPhone are well protected.
The mute switch is not covered by the Flak, but unless you have very fat fingers the switch is still easily accessible.
For an understated look, the all black Flak is the way to go.
http://www.toodolla.com.au/lunatik-flak-dual-layer-designer-case-lightweight-armour-iphone-5/